Hi friends.
My apologies if you have already seen this on my Instagram and tumblr, but I just had to share it some more.
I've been meaning to post about this jacket of mine since forever. And now I finally am!
Well this is how I hold on to that part of my life, while moving on.
When I started to dabble in colour in my late teens, I wanted a way to keep some of my favorite goth relics, one of my most cherished items being this The Cure t-shirt featuring Robert Smith.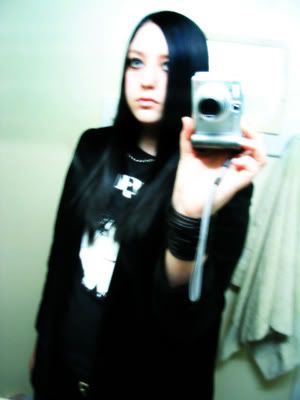 (see him peeking out behind my hair and my blazer?)
but I wanted to wear it in a new way. I challenged myself to stop wearing just band t-shirts and black pants everyday. (my goth uniform)
I wanted to incorporate it with my new style, so I turned the t-shirt into a patch and sewed it onto an old black jacket.
I feel it also fits in really well with my maturing style, getting away from wearing band t-shirts, while still wearing band t-shirts....just in a different way. ;)
I've had this baby for years and i'll never let it go. It's one of my favourite items of clothing, it has this way of honouring that part of me (and my life) while still allowing for change.
Yeah, deep. I know.
What can I say, I listen to The Cure.